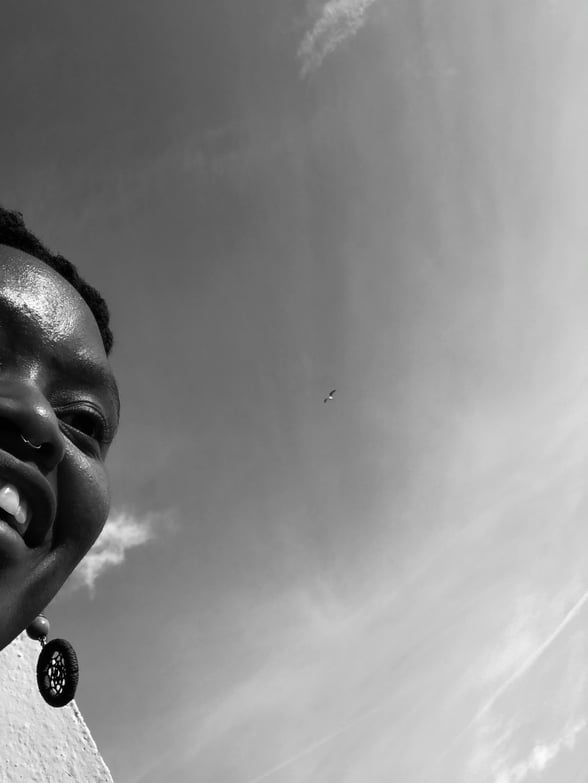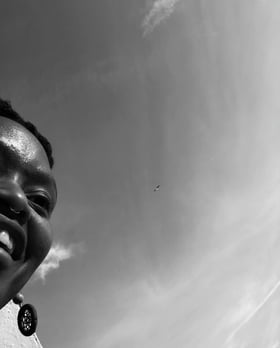 Carisa Bledsoe is a choreographic artist from Memphis, Tennessee, U.S.A. currently living and working from Lyon, France. Their creative practice is centered around body work and visual expression and is inspired by tantric thought and buddhist philosophies. Often manifesting as dance, textures, words, sounds, moving images, and drawings, Carisa's research looks at the field of somatics as a stimulus for artistic creation and, more specifically, as a means to understand family lineage and practices of ritual in relation to ancestry.
They have a Bachelor of Fine Arts in Interarts Performance (Interdisciplinary Art Practice) from the University of Michigan, Ann Arbor (U.S.A.) and a Masters in Choreology (Benesh Movement Notation) from the Conservatoire National Supérieur de Musique et de Danse de Paris.
Prior to their arrival in France in 2014, they worked at Elizabeth Streb's, Streb Lab for Action Mechanics, SLAM (Brooklyn, NY) as an art teacher and assistant choreographer in circus camps for children. In France, Carisa has danced at the Paris L'été Festival (previously named Paris Quartier d'été) with choreographer, Eun-Me Ahn, as part of her 1'59 project and at the Grand Palais as part of the Grand Bal with choreographer Merlin Nyakam in his variation of Messe Pour le Temps Présent
In June 2018, they danced in the Handle/Poignée project by American artist, Liz Magic Laser, at the Centre Pompidou as part of the festival, 'MOVE,' and in Poitier at Le Confort Moderne. While living at the Cité Internationale des Arts (CIA) in Paris, they danced in Swiss choreographer Stefanie Knobel's piece, L'OPOPONAX. Carisa continued to collaborate with Knobel in the work, Technotropies of the Otherwise produced by the Gessnerallée theatre in Zurich, Switzerland between 2021 and 2023.
Before leaving the CIA in January of 2020, Carisa presented their solo, What the Tide Brought In (WTTBI), in tandem with a solo exhibition of their drawings at the gallery, Écho Musée in Paris, France. As part of the Stamps Gallery University of Michigan Stamps School of Art & Design alumni exhibition,
Story, Word, Sound, Sway,
Carisa presented a virtual live reprise of WTTBI, entitled
In deep,
at the end of 2020. In partnership with the Stamps Gallery, Carisa participated in a series of virtual talks and class meetings with members of the university public. In 2021, Carisa appeared in Niki Williams' podcast,
The Culdesac
to talk about their creative practice as it relates to meditation.
Since 2018 they have been co-creating with Carolina Vilela a fanzine project, PORNOTATION, where they use two movement notation systems, Benesh Movement Notation
and Laban Kinetography
, to interrogate the representation of gender and sexual pleasure in visual and corporal expression. With Carolina they have an ongoing choreographic project,
Maintenant du present
, that archives distance in their friendship between Brazil, France, and the United States. Carisa participates in the Marseille based accessible literature initiative, Daeyke Reader and has performed texts in Sophie T. Lvoff's revue of Top Stories, a photographic ode to Anne Turyn's prose periodical for expression of experimental art and fiction by primarily female authors. Carisa's own writing, a poem entitled, Le Jeu, appears in the multidisciplinary revue,
CHICHE
, edition #3, Persona, accompanied by a video dance that is accessible
here
. Carisa currently tours with the Association Os (The Bone Company), lead by Gaëlle Bourges, in the piece,
(La Bande à) LAURA
.